Gather and Grow is continuously working in our community to create hands-on projects for our children and families.
See some of our accomplishments below.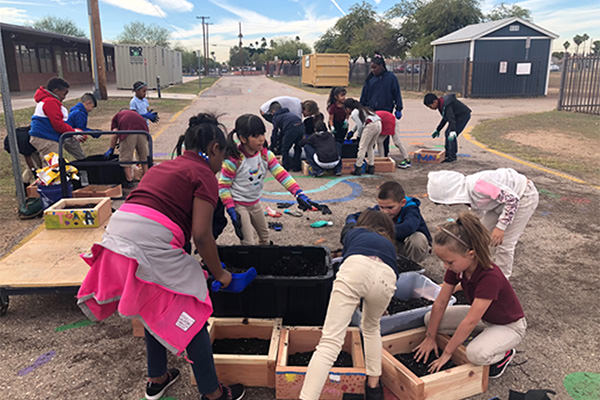 Cultivating Strategic Partnerships in Garden-Based Learning:
Martin Luther King Jr. Early Childhood Center and The Farm at South Mountain
Gather and Grow is an Arizona organization focused on creating spaces for the community to learn about self-sustainability and organic practices. In partnership with ASU School of Sustainability and Roosevelt School District, Gather and Grow helps students to become agripreneurs and families to thrive through garden planning.
Gather and Grow is where our community can come to learn about self-sustainability and organic practices. Located in the heart of The Farm District of Phoenix at Roosevelt School District, students are given the opportunity of gardening to provide kinesthetic and tactile therapy. This therapy is a conduit for social emotional skill development to combat trauma – with science learning and civic engagement as an added benefit.
Each season, Gather and Grow provides out-of-classroom education for hundreds of students both in public and private schools. Gather and Grow has partnered with Phoenix's sustainability and urban agriculture leaders and teachers to offer hands-on garden experiences for students, providing both the opportunities and facilities to foster an appreciation of sustainability and gardening.
The vision for Gather and Grow is to be a model of sustainability for the South Mountain and Phoenix community. Through farming, gardening, composting, and aquaponics programs, we strive to be a focal point that exemplifies sustainable practices on all scales.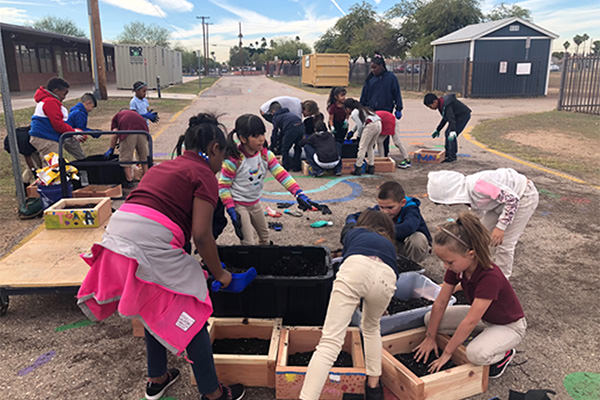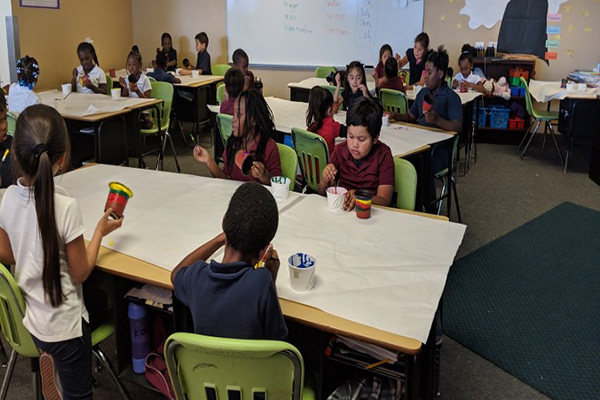 Paving the Road for Community Support in a Garden Based Learning Program
This project focuses on building capacity for the long-term viability of the garden based learning program at Martin Luther King Early Childhood Center through cultivating relationships with local organizations and businesses. Building upon Matthew Waldman's 2018 MSUS project work with this school and The Farm at South Mountain, this project's purpose was to explore ways to integrate the greater school community and allow them to share their vision for an outdoor community space.
The intervention tool used to engineer this collaborative mindset was individual square foot garden boxes that each child in the 2019 student body was able to decorate and take home.
As a tangible piece of this Culminating Experience, I have installed a pollinator garden that has been registered with Monarch Waystation Program. This space serves as a celebration of the school's mascot and provides a totem for the collective action of the community.
With the onset of COVID-19 and the implementation of local, state and federal guidelines, the school has been closed since March and has curtailed the anticipated deliverables.